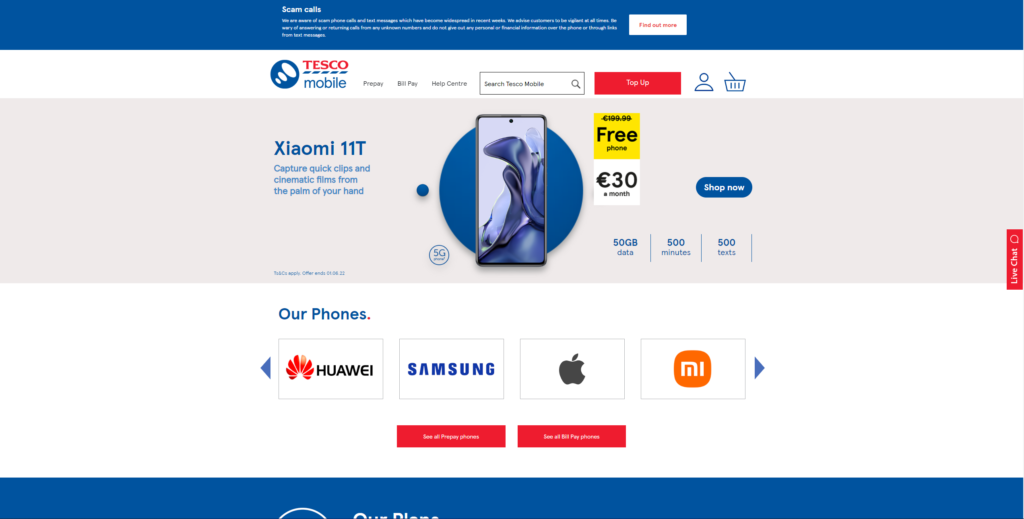 Introduction
Continuum have been Tesco Mobile's digital partner since their entry into the Irish Market in 2007. Recently Continuum were tasked with improving the user experience on their main commercial site.
The challenge
Initially the client wanted to make some slight changes to the appearance of the sites homepage. As a result of deeper analysis however, a more wide reaching redesign was undertaken, with a focus on improved user experience and commercial performance.
The solution
To capture some initial insights which would guide the design decisions, Continuum put heat maps on the site to inform us not only how users journey through the site, but also how they typically interact with the pages of the site.
We followed this up by speaking to the internal stakeholders and their customers. We also visited the clients customer care centre visit to understand how customers were interacting with their service (and which issues were prompting a customer care intervention). Consequently we discovered a variety of different user journeys which were underserved by the original site. These focused on new phones, pay as you go, new phones bill pay & support.
This approach allowed us to flip the clients mentality from presenting "brands & plans" to presenting "phones & journey types" on their site, which better reflected the customers thought process.
The services we provided
Discovery (including onsite observation, interviews, website performance analytics, heatmap analytics, UX testing), UX & UI Design (including wireframes, concepts & design specification), Custom website & backend development and integration, QA & go-live support. Continuum continue to provide ongoing support to the client under a Service Level Agreement.
The Outcome
Tesco Mobile's site now provides users with an online experience and buyer journey that better reflects their thought process leading to a growth in sales value through the site, while also enhancing customer satisfaction by better facilitating the online support requirements of existing users.
Client perspective
"Continuum have been working hand in hand with Tesco Mobile to very aggressive deadlines and shifting milestones. The project rollout and continued support have been a superb success and has exceeded our requirements and results."
— Paul G. Walsh – Head of Network, Tesco Mobile Ireland.