The Challenge
Changing mobile phone providers in Ireland is hard. Trying to get a better deal, understanding if you need that many minutes and data per month your need or figuring out how to not to get locked into an endless contract is a minefield. It's overly complicated and then there's that nagging sense that the providers are trying to make it complicated. If only there was an easier way…
iD Mobile came to us with a fresh idea: give the customer the freedom of choice. To choose as many minutes, texts, and data as suits them. To choose whatever contract length they want. To choose what to pay for their phone.
A great idea. And it sounds simple, right?
The Solution
The iD brand and proposition present a sea change for the mobile industry; the most competitive online market in Ireland. We took the exciting opportunity to design a new kind of mobile website, a website that made it fun and painless to find the best phone and plan for you.
While highly complex in its technical implementation, the interface creates delight and simplicity at every touchpoint. It sells a lifestyle, a new way of doing things. To handle this we need to use more than the average content management system. We immediately chose to use Kentico as the best solution for the job. We loved working with the system so much for it adaptability and stability that we have now chosen to use it as our goto system of choice.
The Results
The final design implementation of the site surpassed all expectations and both we and our clients were thrilled with the result. The site offers users an effortless experience to choose and design their own desired package while the back end of the site does all the heavy lifting integrating multiples process and systems from warehouse control to billing outputs and labelling solutions.
We were rewarded further when it went on to win and eirSpider award for best eCommerce site amongst a category for some seriously stiff competition. It is amazing to have all our hard work recognised in this way and we hope to continue out great working relationship and improved site iterations long into the future.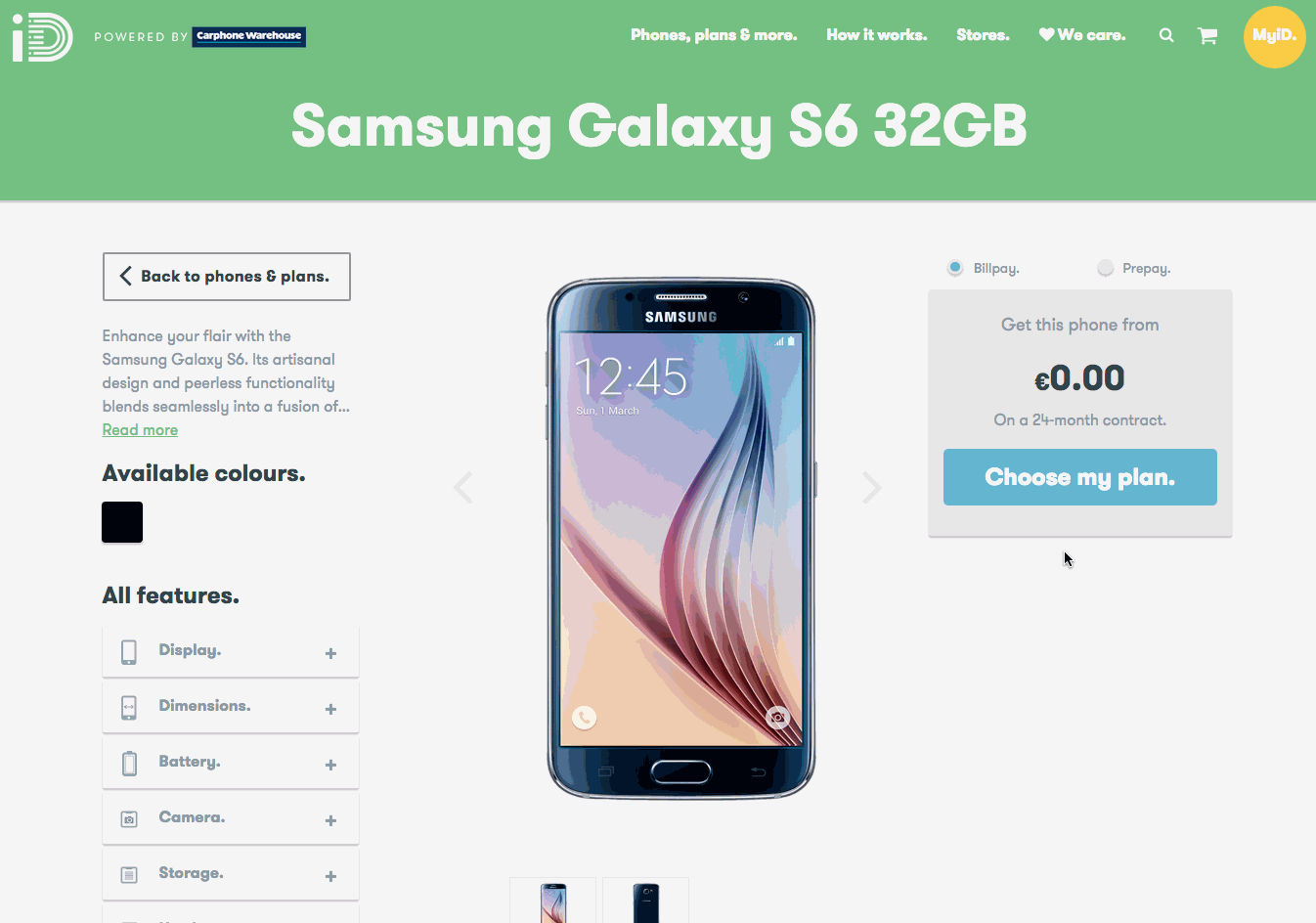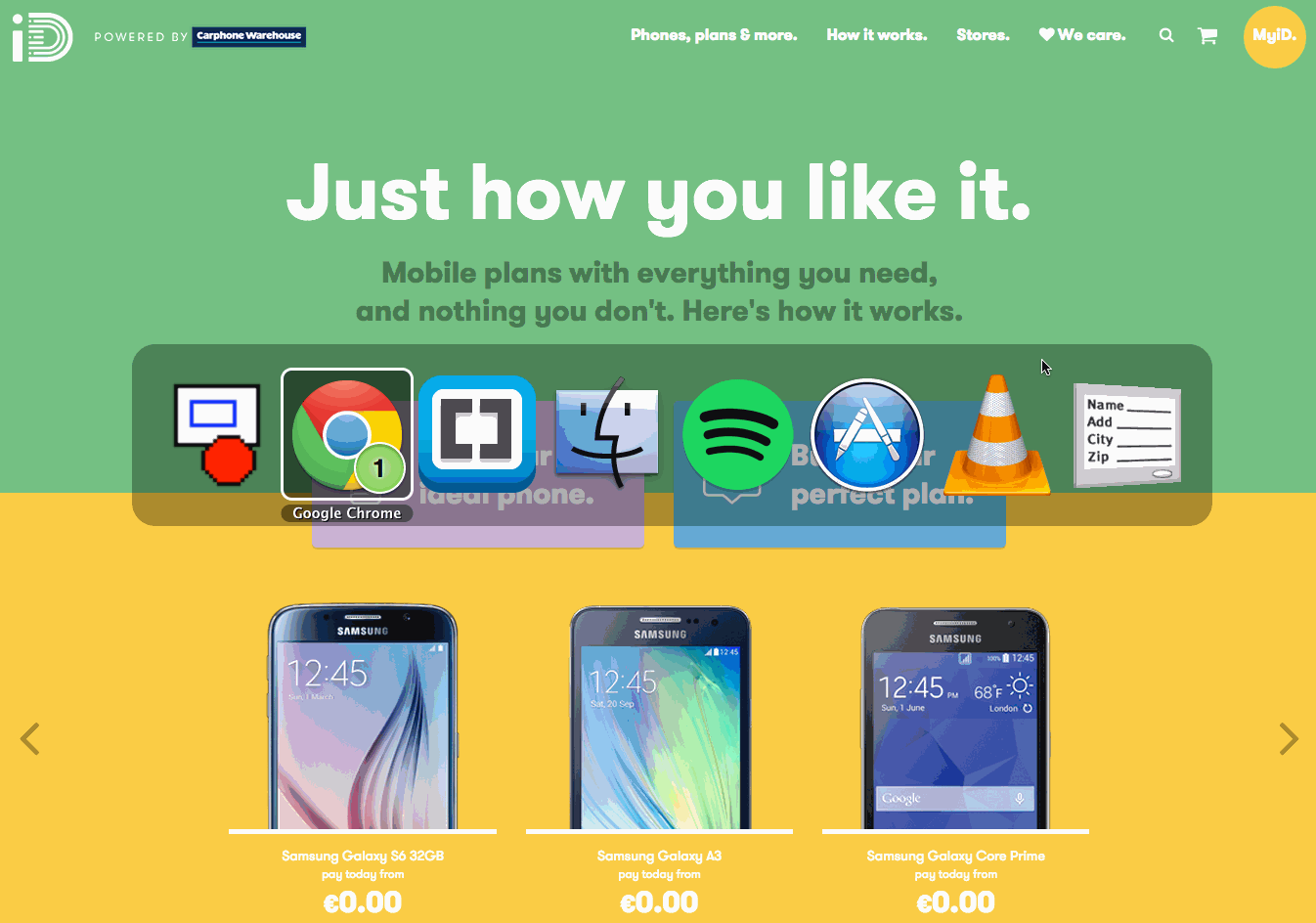 Our Services
Web-design
Web – Development
Graphic design
SEO
UX Testing
Kenitco Implementation and Training
eCommerce Solutions
A Little Bit More…
Technical Beauty
The core tenets of iD's offering are flexibility and control. Following a robust discovery and design process, we created an interface which allows you to control this flexibility. It was important on only to create the functionality of the site from a business perspective but that would also visually convey ease of use and make sense to iD's customers.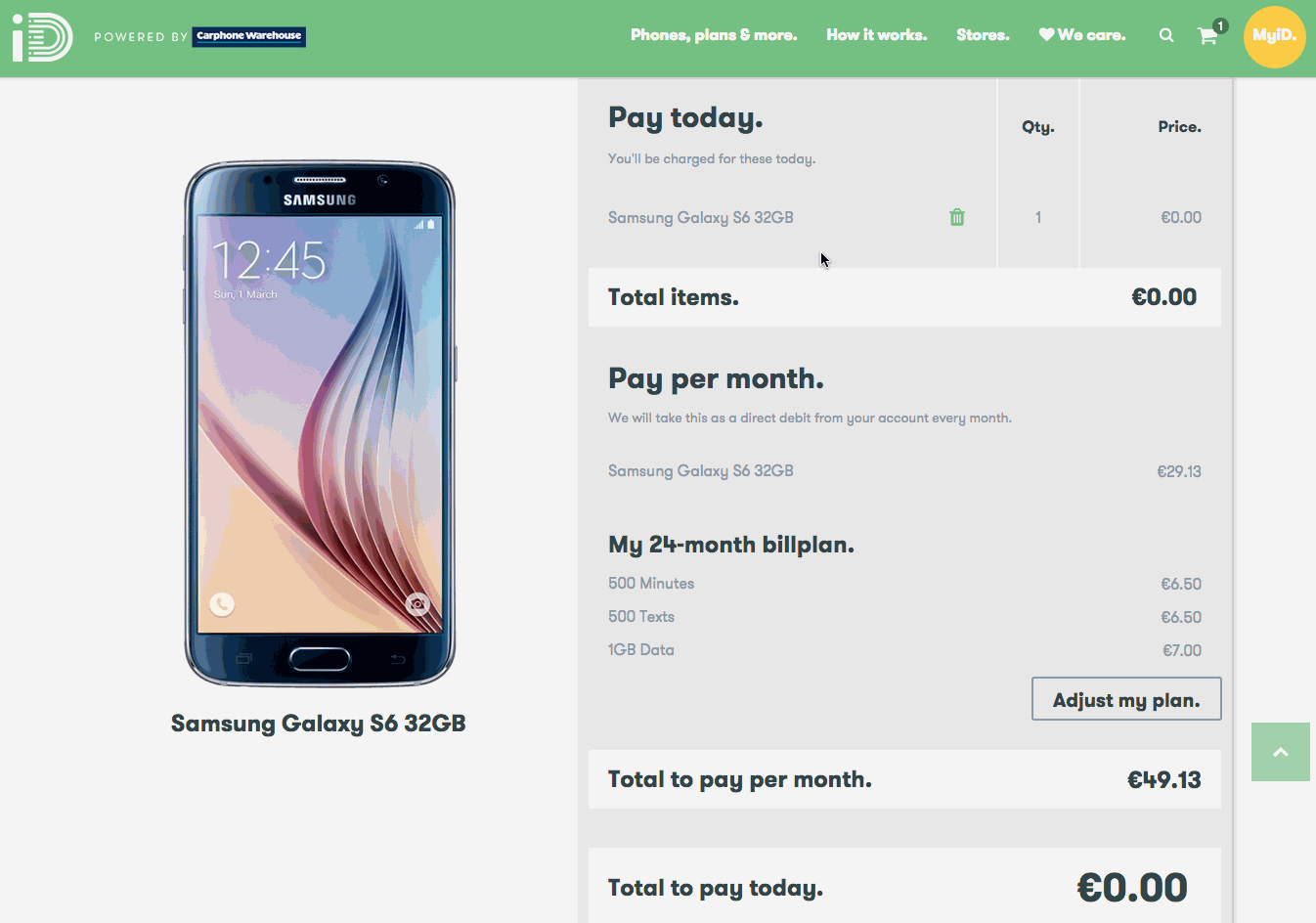 We came up with the prefect solution; the "plan builder", which allows users to build, adjust and settle on the options that best suit their phone habits .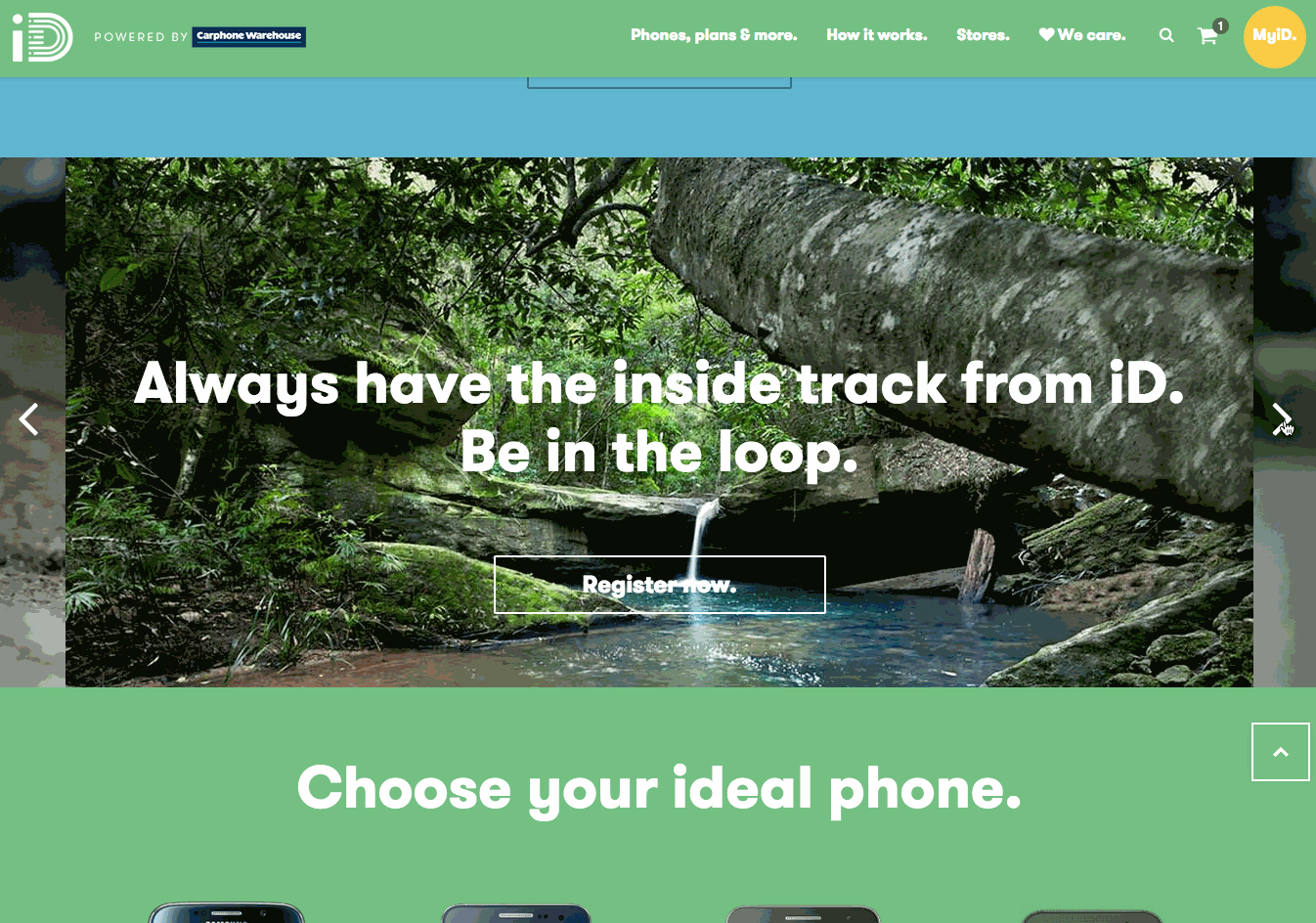 As the user navigates the site, they are offered fun and attractive interface elements, encouraging them to adjust their desired plan and see the results.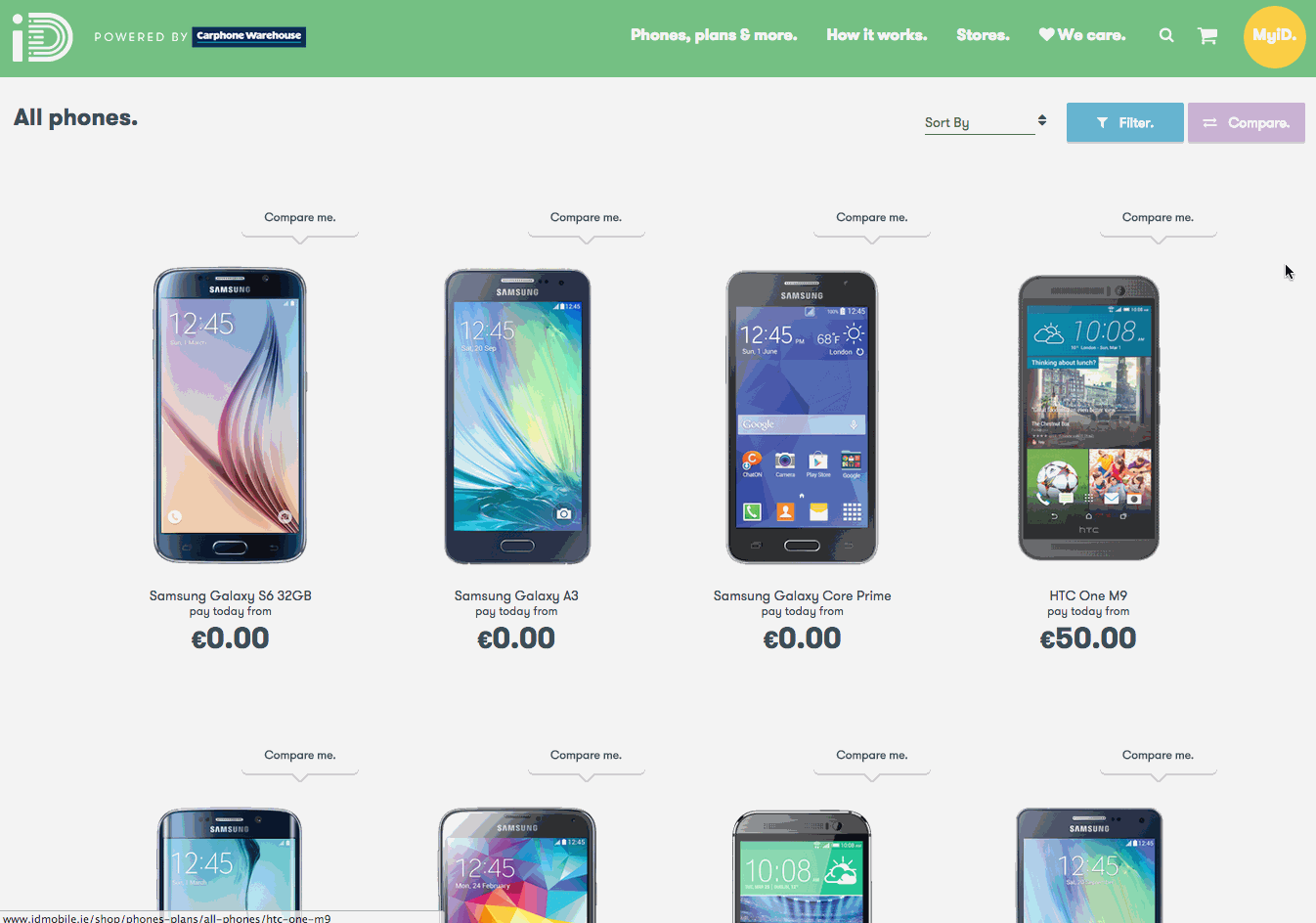 User Experience
When designing the User Experience we made it as simple and frictionless process as possible. Yes, signing up to a mobile provider can be a complicated business, but it doesn't have to be so boring!
Every element, control and button on the iD website has been calibrated to maximise positive user experience. We used vibrant colours to draw attention to each control. We used big, chunky buttons and sliders to encourage our users to drag, shove and glide their way through the sign-up process.

For the iD site we chose to use eye pleasing, instagram-esque photography and bold, bright colours to show vibrancy throughout the site.
Messaging is written in a bold, playful sans-serif font using an irreverent tone and leaving the site bursting with the kind of personality that is sorely lacking from competitor sites the world over.
Objects of Desire
Mobile phones are objects of desire and long-term investments for many users. The iD site gives these objects their space, showing them in the best light rather than pushing them as an afterthought. We took inspiration from online fashion stores, creating a minimalist interface in which the object is the star.
How We Did It
Research & Observation
Continuum has spent the last decade working in the mobile phone industry. Drawing upon this experience for the iD project, we put our industry leading practices into motion.
After analysing competitors across the world we noticed an emerging trend towards lifestyle and simpler interfaces.
We carried out extensive real-world experiments in our testing lab to observe them carrying out tasks on competitor websites. We learned what worked, what frustrated users, and where pain-points exist. We armed ourselves with practical knowledge to inspire and feed the design process.
We love testing
We tested and retested the design at every stage of the process from low-tech paper based prototyping to the most advanced high-fidelity mock-ups.
Using real sample end users in our testing lab we set them to tasks interacting with the prototype. As they worked, we filmed their facial expressions, recorded their commentary and screen interactions.
After each round of testing, we compiled our data and discussed the results as a team.
We improved upon what was working, eliminated and adapted what wasn't and constantly evolving during the process. Then we did it all over again, iterating towards the final version of the website.
Visuals, Brand & Impact
We began our design work when the iD brand was still in its earliest stages. Holding workshops with our iD's internal brand team, we translated the emerging brand style into a visual language for our interface.
As iD decided to use lifestyle imagery and clever messaging, we ensured that the website would incorporate these elements.
For the "plan builder" interface and shop elements however, we were in the driving seat. We worked to create buttons, input elements and sliders which would attract attention and feel grabbable. The user should want to reach out and touch their screens. In these areas of the website, the visuals become more relaxed, allowing the user focus to be on building their plan and choosing their phone rather than being distracted.

Under the Hood
Kentico powers the core of the eCommerce shop, content and blog elements of the site.
Our development team then added the "plan builder" functionality, allowing the user to not just select from a list of pre-determined products but to configure their own unique product based on their own particular needs.
Due to the parent-child relationship of the companies, some functionality was brought through from the Carphone Warehouse build such as the Comparison Tool and Checkout.
The Checkout processes were then tailored to iD's specific requirements, speaking to the credit-vetting and payment processes.
Finally, the site interacts seamlessly with iD's in-house stock database, returning stock numbers and availability for every item in every iD Mobile store nationwide. This enables the website to reflect online stock availability and suggests the "in-store pick-up" option.