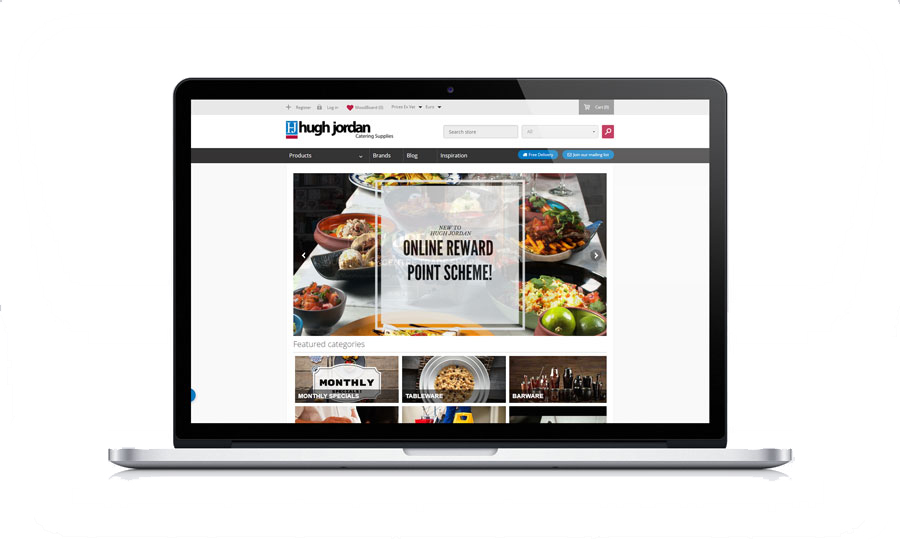 Hugh Jordan & Co has been one of Ireland's largest independent catering suppliers since 1947, specialising in everything from Crockery, Cutlery, Glassware, Barware, Kitchenware, Hospitality, Dining Room, Disposables, Food Packaging, Equipment, Hygiene and Furniture. From tea-spoons to commercial dishwashers they are the one-stop-shop for all catering needs. The company services thousands of active customers across all scales of operation (from small independent cafes to major catering companies).
Hugh Jordan put their success in the market down to three factors:
Service
Innovation &
Value
The business is in many ways a traditional B2B business with sales representatives on the road chasing new business and maintaining existing accounts. Many of their customers are relatively small scale, run by time strapped owner operators. Those customers are looking for one-stop-shop solutions that can simplify their lives.
In line with that Hugh Jordan came to Continuum to address the changing needs of their customers with respect to the digital side of their operations.
Hugh Jordan's Challenge
The client needed an online presence that would allow existing customers to place their weekly orders directly through the existing eCommerce platform through personalised (& branded) customer home pages which would:
Support unique pricing per customer
Allow customers to easily place their orders (with no training)
Restrict purchases to a list of customer approved products, giving managers the opportunity to empower their staff to reorder needed supplies without worrying about erroneous purchasing behaviours.
Their overarching desire was to provide customers with a consistent customer experience independent of the channel they were utilising (hence the need to provide unique pricing, or default payment methods so that customers who had been approved for credit through one channel could place a P.O. when online).
Continuum's Approach
Under their existing Service Level Agreement, Hugh Jordan simply logged a ticket in Continuum's Service system. Continuum then came back with a plan of action and the initial discovery phase of the project began.
Continuum undertook an extensive review of the Hugh Jordan's existing eCommerce platform to understand what would be required to deliver these requirements. After that initial scoping Continuum broke down the project into two distinct parts:
Existing plugins – Continuum worked to identify sections of the extant platform which worked cohesively with existing plugins. By using out-of-the-box plugins as much as possible Continuum were able to keep the costs down and move quickly to execution.
Functionality gaps – Once these quick solutions were in place, Continuum custom built bespoke functionality to work alongside the new plugins to complete the online ordering system as required. This approach ensured that the future upgrade path of the existing platform was not compromised.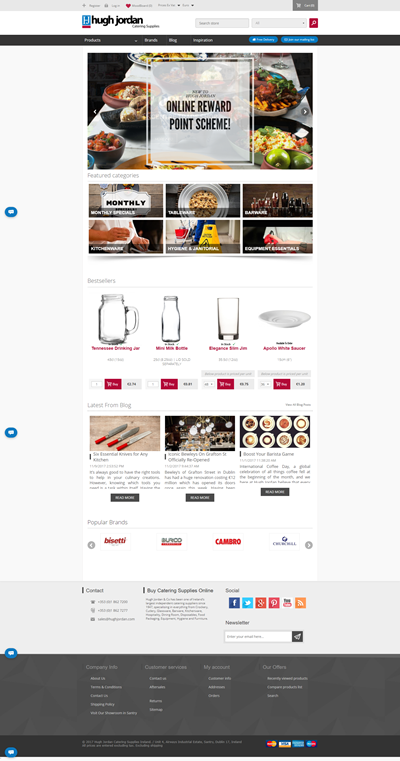 Results
Hugh Jordan has successfully completed a pilot case with a very large, multi-store customer and has received extremely positive feedback. This feedback includes comments about the simple use of this custom built functionality, as well as it being pleasing to use aesthetically. The whole design ensures that it is simple to set up both in the back end of their website right through to the end user who is ordering. Each step is clearly laid out minimising the chance for human error. Hugh Jordan recently won a large contract in which this facility was one of their key USPs and credit their success to its inclusion.
Hugh Jordan believes this has doubled the amount of orders placed through the website, orders which otherwise would have required a lot of sales support from the sales team. The knock on impact of this is that valuable sales rep time has been freed up allow them to chase new business.
In the Clients own words
"We came to Continuum because of their reputation in the market and have found them to be reliable, trustworthy & proactive, which is hugely important where there is knowledge asymmetry. What we really liked about Continuum was how they deliver projects – from designers, through their engineers, into QA and beyond – it has been a seamless experience."
Michael Sharkey
CFO, Hugh Jordan & Company Ltd